Before hEDS diagnosis, patients are given more than 10 alternatives
Survey respondents say they waited 10 years, saw 15 clinicians before diagnosis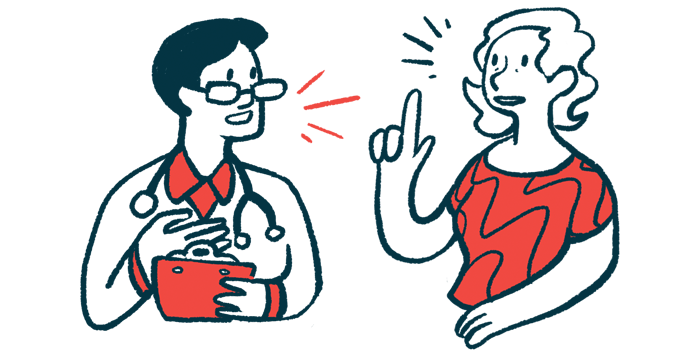 Adults with hypermobile Ehlers-Danlos syndrome (hEDS) often receive more than 10 alternative diagnoses before a confirmed hEDS diagnosis, according to a large patient survey.
Anxiety, depression, and migraines were the most common diagnoses. On average, it took about 10 years and 15 clinicians to receive an hEDS diagnosis.
The findings will be a valuable resource for clinicians to revise the diagnostic criteria for hEDS, the researchers said, noting more research is needed to distinguish between actual coexisting conditions and a misdiagnosis.
The survey study, "Comorbidity, misdiagnoses, and the diagnostic odyssey in patients with hypermobile Ehlers-Danlos Syndrome," was published in Genetics in Medicine Open.
hEDS is the most common type of EDS, a group of inherited connective tissue disorders of the skin, joints, blood vessels, and other tissues. Patients have overly flexible joints and fragile skin that's extremely stretchy, and can tend to bruise and scar.
Chronic pain, fatigue, heart defects, and gastrointestinal problems are common, as is muscle weakness, joint inflammation, and other skeletal abnormalities, such as low bone density or spinal curvature.
hEDS patients also have a higher risk of coexisting conditions (comorbidities) such as migraines, fibromyalgia, and postural orthostatic tachycardia syndrome (POTS), or rapid heartbeat when standing up.
The disease is often misdiagnosed because it's similar to other conditions and patients are given alternative reasons, leading to confusion and delayed diagnosis.
To understand the "diagnostic odyssey" with hEDS, researchers at the Indiana University School of Medicine surveyed patients through the Ehlers-Danlos Society's Global Registry. Among the 505 respondents, most were white (97%), female (91%), and lived in the U.S. (63%).
Participants were asked about previous alternative diagnoses, whether they believed they were accurate, the number of years from the onset of symptoms to a hEDS diagnosis, and the number of clinicians they saw before and after being diagnosed.
Misdiagnoses abound before correct diagnosis received
All but one respondent said they'd been diagnosed with one or more health condition. The average number of co-diagnoses per person was 10.45. Common co-diagnoses included anxiety (75%), depression (68%), migraines (67%), POTS (61%), and irritable bowel syndrome (57%) — a digestive system condition with symptoms such as cramping, abdominal pain, bloating, gas, and diarrhea.
On average, 58% of co-diagnoses were accepted, notably POTS (91%), hypermobile neck joint (90%), mast cell activation syndrome (86%) — which causes repeated severe allergy symptoms affecting several body systems — jaw joint disorder (85%), and small fiber neuropathy (83%), marked by severe pain attacks that typically begin in the feet or hands.
Rejected co-diagnoses included neurological disorders (95%), multiple sclerosis (76%), fibromyalgia (67%), bipolar disorder (62%), and ulcerative colitis (58%) — an inflammatory bowel disease.
About a third (36%) said they'd received other diagnoses, such as asthma (11%), dysautonomia (7%) — when the autonomic nervous system that controls involuntary body functions like heartbeat and breathing is impaired — allergies (6%), attention deficit and hyperactivity disorder (6%), and polycystic ovary syndrome (5%), a hormonal imbalance that causes irregular menstrual periods, excess hair growth, acne, and infertility.
Anxiety and depression were often diagnosed together, as were different neurological conditions and eating disorders.
Pain and fatigue were the main reasons respondents sought medical care. Over an average of 10.39 years from the onset of symptoms to an hEDS diagnosis, participants saw 15.6 clinicians and 24% said they saw 20 or more.
A genetic specialist provided most (57%) hEDS diagnoses, followed by a rheumatologist (20%) or a primary care physician (5%). Most received their diagnosis in the U.S. (63%), the U.K. (15%), or Italy (6%). Since the hEDS diagnosis, the average number of clinician visits per participant dropped to 7.48, a decrease of 52%.
"Our study has demonstrated the complexity of the web of co-diagnoses that individuals receive before ultimately being diagnosed with hEDS," the researchers concluded. "We believe that the understanding presented in this study … will be a valuable resource for experts as they work to revise the diagnostic criteria for hEDS."
More research could help differentiate between true comorbidity and a misdiagnosis, they said.